Biotest
Origem Seat Dreieich, Alemanhã
Fundação 1946
Subsidiárias Biotest Pharma GmbH, etc
Organização mãe Tiancheng International Investment Limited
Site www.biotest.de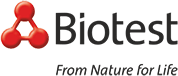 Biotest focuses on biological drugs derived from human plasma in the therapeutic areas of hematology, clinical immunology and intensive medicine. It continuously investigates new solutions in these valences and offers the market some unique medicines worldwide.
Biotest operates in the entire process and in the value chain with its own resources. This covers the research and development, harvesting a substantial part of the blood plasma needed for its products in plasmapheresis centers, manufacturing of plasma proteins and monoclonal antibodies as well as quality control and sales.
Biotest seeks to work with its partners to achieve its strategic objectives quickly and efficiently. There are cooperation agreements in research and development, as well as for the commercialization of products. Considers it's essential to ensure that the goals and priorities of a partnership are complementary, so that any cooperation is mutually beneficial to all partners.