Welland Medical
Origem United Kingdom
Fundação 1988
Subsidiárias CareFlex, CliniMed, CliniMed (Holdings) Limited, Flexible Medical, Gemini HealthCare Services Ltd, Helapet, SecuriCare
Organização mãe CliniMed Holdings Ltd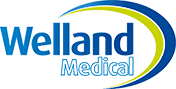 Welland Medical is an innovator in stoma care; specialising in the design, development and manufacture of stoma care appliances and accessories using the highest quality materials.
Welland Medical is a British manufacturing company established in 1988 and one of the leading ostomy brands in the UK and worldwide.
Working closely with healthcare professionals, patients and care organisations, Welland Medical brings to market innovative products that enhance the lives of ostomates throughout the world.
Welland Medical employs over 180 staff who are mainly involved in Production/Operations, but also in Research and Development, Quality Assurance and Regulatory Affairs, Engineering, Sales & Marketing, Finance, Administration and Human Resources. Welland Medical recognise that our staff are our greatest asset. Welland on-going commitment to the high quality training and development of all personnel is demonstrated through our achievement of the Investors in People Gold in September 2012 and then Champion Status in May 2013.